Brexit, the Elgin Marbles and a poetical perspective from Keats and Byron

THE PARTHENON MARBLES became front-page news back in 2014 when the Greece appointed international lawyer Amal Clooney, wife of Hollywood actor George Clooney, to argue their return from Britain to their homeland of Greece. They became topical again in 2018 with the opening of the British Museum exhibition Rodin and the Art of Ancient Greece. The exhibition showed how sculptor Rodin was inspired on seeing the Marbles at the museum. It changed his approach to sculpture, and he came to accept that headless sculpture could still be beautiful. Rodin's sculptures were shown alongside 18 of the Greek masterpieces.
Fast-forward to February 2020, with post-Brexit concerns stoking up more calls for Britain to return the looted relics. Britain's EU negotiator David Frost recently met his EU counterpart Michael Barnier to thrash out terms for a trade deal but other European nations such as Greece and Italy insist on new regulations around the trade of stolen artefacts. A veiled reference to the return of the Parthenon Marbles, perhaps?
The legality of their ownership remains a debatable point with this Greek-British row raging on since 1807, the date Lord Elgin stripped the Parthenon ruins of their classical treasures and had them transported from the Acropolis to London under the noses of the warring factions caught up in the Ottoman conflict. The British Museum has had them on permanent display since 1817.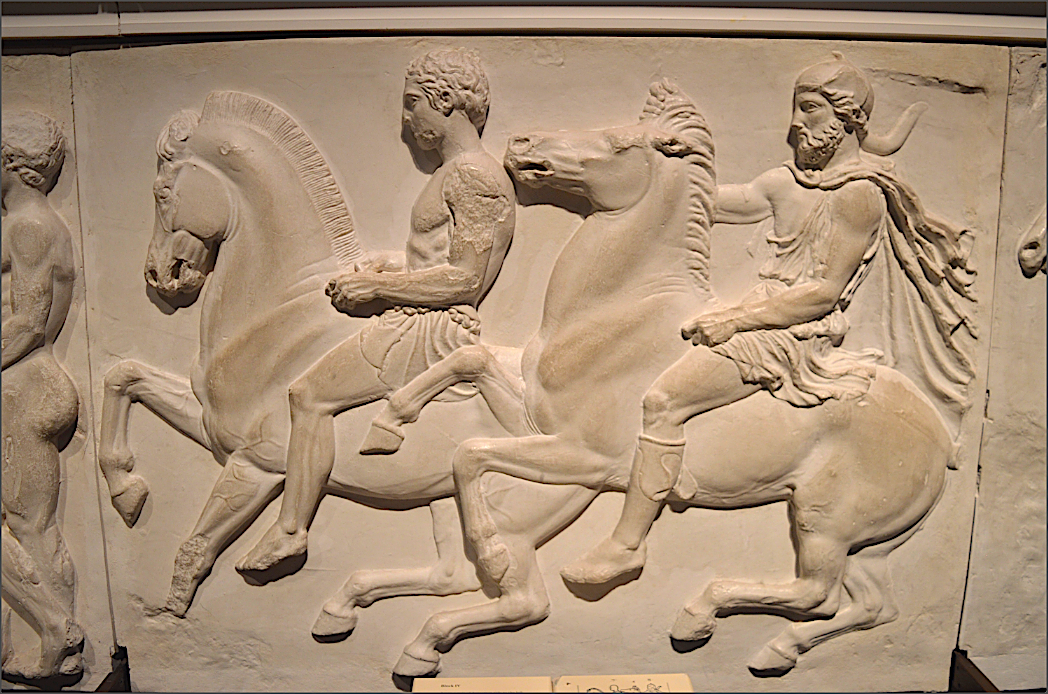 Parthenon Marbles, The British Museum
It has to be said, there was great concern the battleground of the Ottoman Empire would reduce the Parthenon to rubble. Enlightenment Age antiquarian Richard Chandler observed in 1770: "It is to be regretted that so much admirable sculpture as is still extant about this fabric should be all likely to perish … from ignorant contempt and brutal violence". However, it is questionable whether this reasonable concern should justify removing them from their place of origin.
Where is the line drawn between reasonable acquisition and looting and how do you qualify whether or not a relic or artefact has been legally 'taken' from another country? With the unsavoury origins of many museum exhibits and private collections ranging from smuggling to Nazi looting, it is an important question. Some lawyers and historians claim Elgin was given permission and say Sultan Selim III issued a decree that allowed Elgin to take whatever he wanted unhindered. But this ambiguous document did not refer directly to the Parthenon Marbles and Elgin admitted as much before Parliament. Passage of time will always be a factor. That is, even if a relic has been 'removed' without permission the hundreds or even thousands of years in question make the debate about ownership a foggy one. Solving the issue requires a thorough examination of international law as regards history and heritage.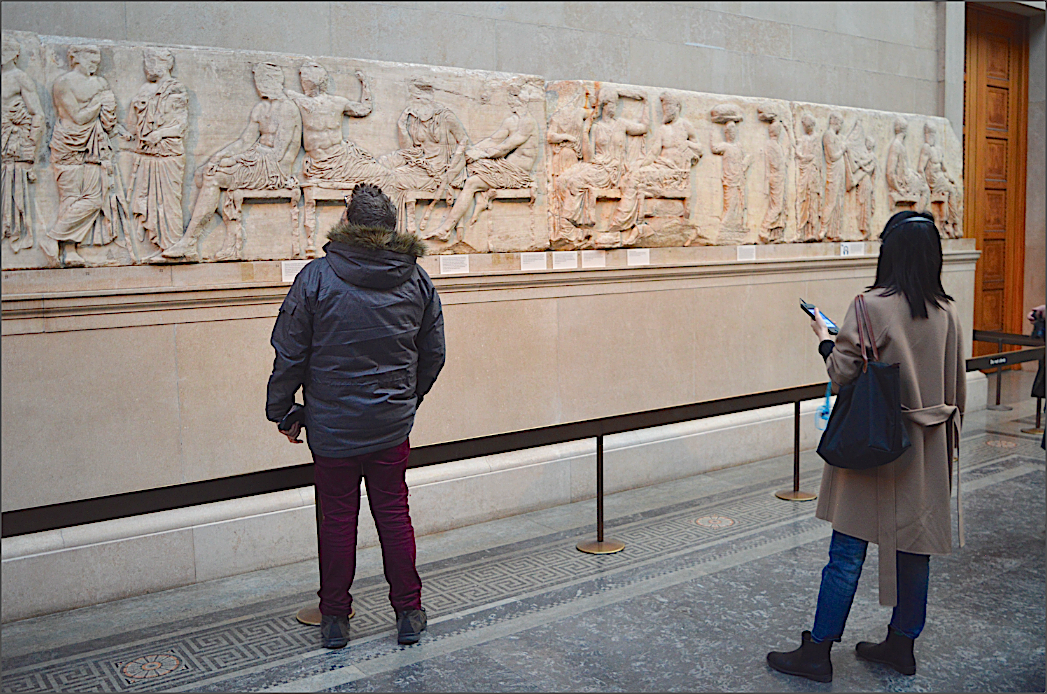 It wasn't just artists and sculptors who drew inspiration from the Parthenons at the British Museum. The celebrity poets of the period also had something to say about the day Elgin, British Ambassador to the Ottoman Empire, brought Greek culture into the heart of England. English poets Lord Byron and Keats give a poetic perspective but of the two, Byron's take on the question of ownership is one the British Museum might not have considered.
The Parthenon Marbles: Lord Byron and Keats offer a poetical perspective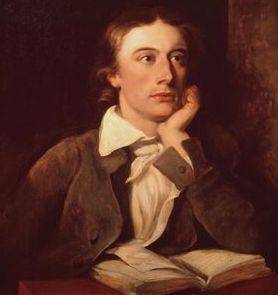 Coming from an age steeped in the romance and culture of Ancient Greece and Rome, Lord Byron and John Keats were prominent amongst the Regency literati driven to write epic poems about the Parthenon's aesthetic and historical value. Keats' first encounter with the Parthenon Marbles was 11 years after they were transported to Britain. He wrote his poem On Seeing The Elgin Marbles in a state of awe and you can certainly sense his rapture in the lines: "So do these wonders a most dizzy pain". However, this feeling is not just about cultural appreciation. He also points out quite strongly that the Marbles give him an uneasy reminder about his own mortality for they will live on long after he has passed. For Keats these ruins from Classical Greece represented a glory beyond mere material existence.
On Seeing the Elgin Marbles

My spirit is too weak – mortality
Weighs heavily on me like unwilling sleep,
And each imagined pinnacle and steep
Of godlike hardship tells me I must die
Like a sick eagle looking at the sky.
Yet 'tis a gentle luxury to weep
That I have not the cloudy winds to keep
Fresh for the opening of the morning's eye.
Such dim-conceived glories of the brain
Bring round the heart an indescribable feud;
So do these wonders a most dizzy pain,
That mingles Grecian grandeur with the rude
Wasting of old time – with a billowy main –
A sun – a shadow of a magnitude.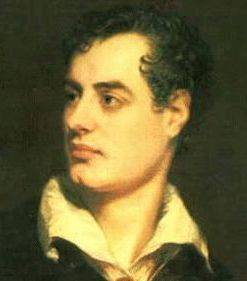 However, for poet Lord Byron, such issues were of lesser importance compared to the plight of Greece itself. Byron was a Greece fanatic and had fallen in love with its classical and mythological world: the Greece of Alexander The Great, Plato, Socrates and Achilles. He even left his privileged life of nobility in Britain to join the Greek fight for independence against the Turks and died there doing so.  So issues of beauty and mortality bound with ethereal references did not figure in his argument, solely the question of ownership. His rebuke was ferocious – in The Curse of Minerva he attacks Lord Elgin for the looting and does so with such savagery that Byron himself didn't dare allow them to be published in England for many years after. In the text Elgin is cursed by the goddess Minerva for his theft and also the curse extends to Britain's wars during this period. The poem raged that Britain must suffer severe battle defeats as a consequence such was the magnitude of the crime. He even continued the assault in a second poem – his most famous one, Childe Harolde.
Childe Harolde

Cold is the heart, fair Greece! that looks on thee,
Nor feels as lovers o'er the dust they lov'd ;
Dull is the eye that will not weep to see
Thy walls defac'd, thy mouldering shrines remov'd
By British hands, which it had best behov'd
To guard those relics ne'er to be restor'd.
More WHL Museums