Can you see elements of Van Eyck and the Pre-Raphaelites in the work of contemporary artist Isabelle van Zeijl? This article examines her work but you can also check out Reflections: Van Eyck & The Pre-Raphaelites at the National Gallery until 2 April 2018. 
Looking at an Isabelle van Zeijl work without knowing her background or methods you'd be driven to ask whether it's a Renaissance piece. With further insight you still might ponder 'is it a painting or a photograph?' These depictions of historic female archetypes bring to mind a mysterious beauty that we'd typically associate with the classical age of portraiture, but the post-modern aesthetic long ago replaced Renaissance concepts of idealised beauty with a more playful approach or even outright rejection in favour of unfathomable idea-based work. Dutch artist/photographer Van Zeijl dips into the post-modern to craft a vision of feminine power that will have you questioning both historical and 21st-century concepts of beauty.
And 2017 seems to be a significant year for this contemporary artist, with one work titled 'She' gracing the walls of the Royal Academy Summer Exhibition and also prominent on the promotional literature for the Young Masters Art Prize 2017 where she won the Highly Recommended Prize category of The Young Masters Emerging Woman Art Prize. It's an eye-catching look that would be an obvious first choice for marketing materials, as she requires the assistance of fashion designers, hair stylists and make up artists with Van Zeijl as both artist and model. Her subjective take on self-portraiture bridges the aesthetic gap between the ancient methods of the Renaissance and digital technology and are perhaps the most stunning and most elaborate set of selfies you'll ever see – but not a mobile phone camera in sight!
Whether you are an art historian or casual gallery visitor, the effect is immediate when you glance at her work: the representation of the timeless and adored that somehow connects to a collective consciousness. The historian might identify this as the Flemish Primitive Effect. The noblewomen she depicts are ironic and mysterious, personalized and updated using modern lighting and editing techniques yet in many cases true to the designs of the 15th and early-16th century Flemish Masters. You can see prominent elements of Jan van Eyck's Portrait of Margerata van Eyck (1439) in her Is This Who and Is That You series. This includes ennobled and hallowed religious expressivity and even the faux-dated look, the cracked and aged oils of Bruges panel painting. All of this is a marked homage to her countrymen in particular, and the Northern European Renaissance in general.
Also, closer to home she hints at the red-haired Pre-Raphaelite muses and femme fatales in her Supermodel series. The Pre-Raphaelites were known for their re-focus on representations of beauty after advocating realism in art. To this end this Bloomsbury-based group of artists rejected the Mannerist vision of beauty seen in the paintings of late Michelangelo and Raphael. She shares their desire to source a fresh aesthetic by way of the Renaissance, although their methods inevitably differ. While the Pre-Raphaelites sought a non-idealised representation of beauty bearing little irony, Van Zeijl has an ironically idealised approach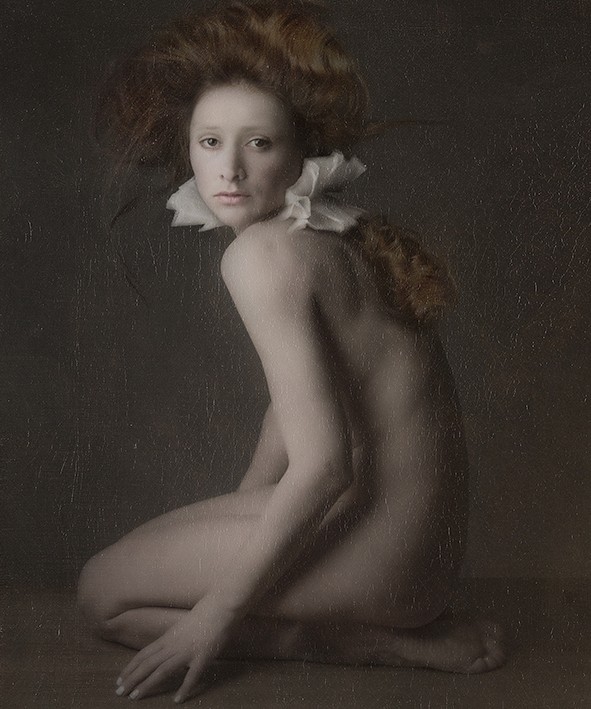 Supermodel III (Isabelle van Zeijl)