For obvious reasons, the most significant art movements emerged during periods of social, economic and cultural upheaval. A collective front is often needed to bolster against these wider, unfathomable changes which often leave individuals, creative or otherwise, feeling quite insignificant and helpless. The confluence of Brexit and Covid 19 was the demarcative point for the creation of the TAOI collective which started out as an exhibition The Art Of Isolation which brought artists together to articulate the realities of national lockdown. Organiser, curator and artist Adam Lucy then formed the TAOI Collective made up of these same artists to tackle broader themes under a united creative front.
Their first exhibition at the Espacio Gallery, Shoreditch back in October 2020 was a success as a celebration of this talent and as expected there were more than a spattering of references to Covid 19. Art that used Covid 19 masks in their creative statements were inevitable considering the pandemics affect on every area of UK and global life.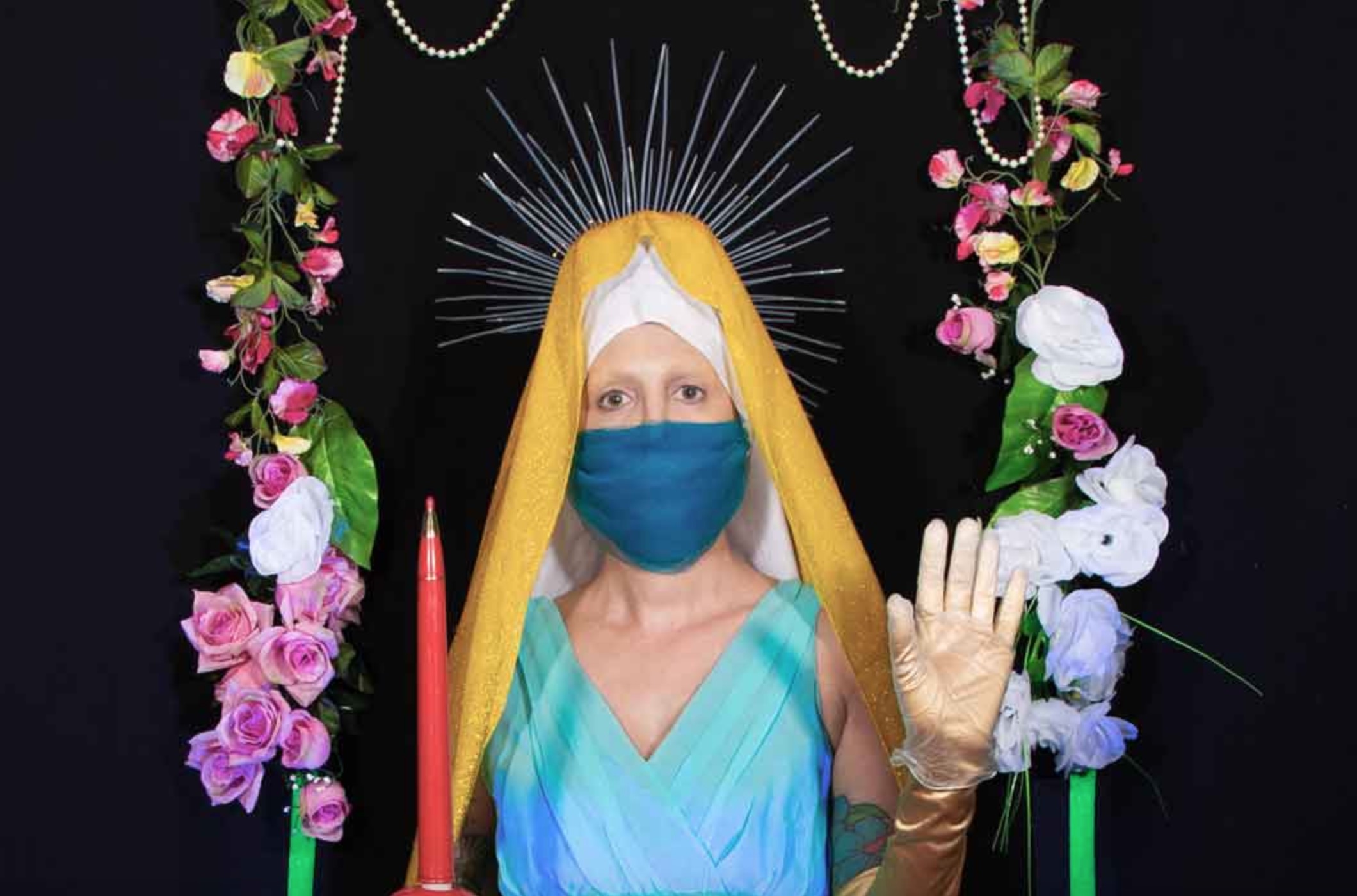 Chris Pig – The Healer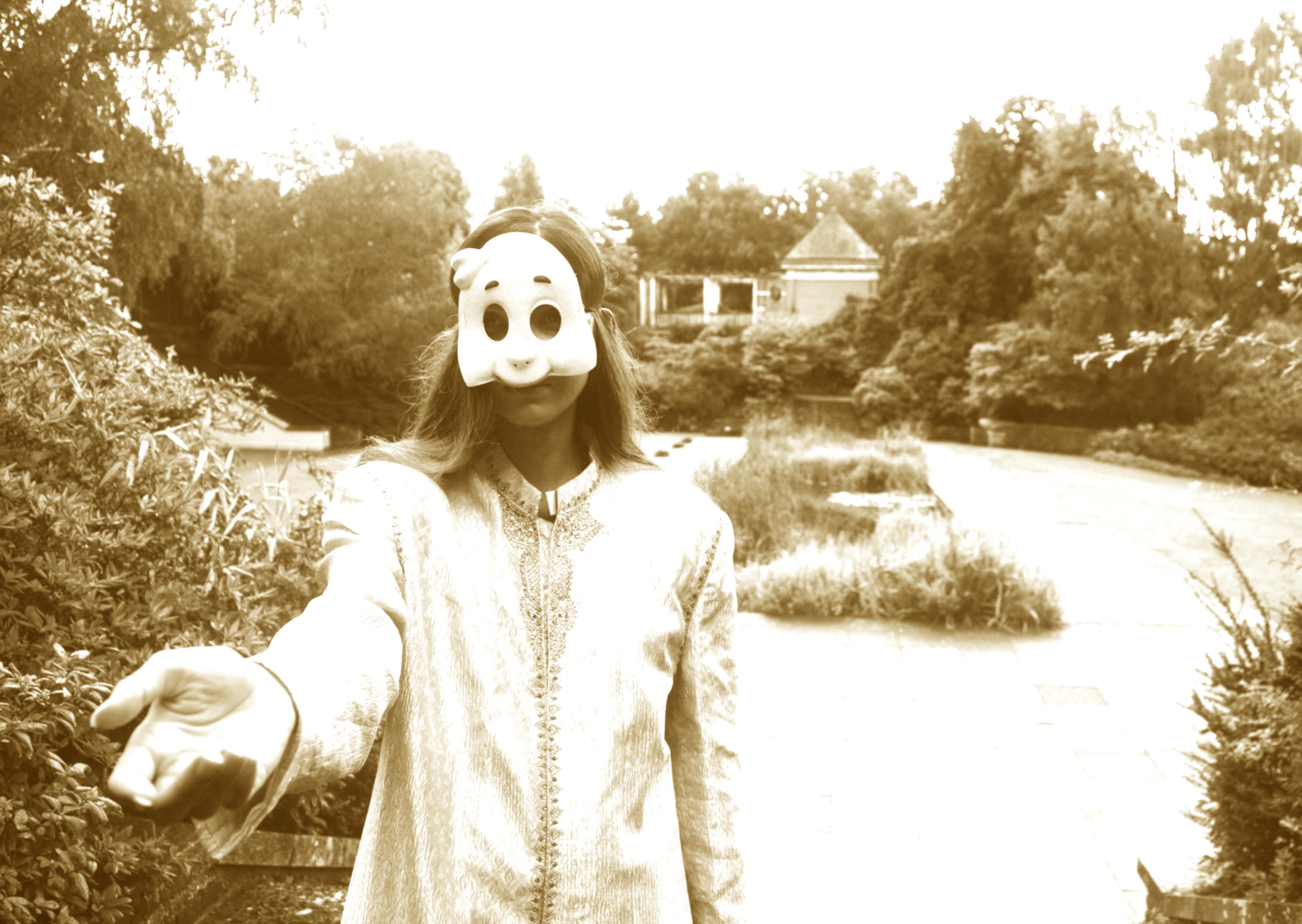 Eddie Saint-Jean – Uncanny2.  An uncanny take on the Covid 19 mask
But now the curator has set out a post-pandemic vision. The artists have free rein to create works beyond the Covid 19 theme and embrace a more hopeful space beyond the confines of lockdown. Or at least – considering the unpredictable nature of the pandemic at this stage – The Space In Between. This is the title of their upcoming exhibition at Gallery 54, Mayfair, London April 12-18 which continues online after the 18th.
Let's take a closer look at some of these artists and their previous work.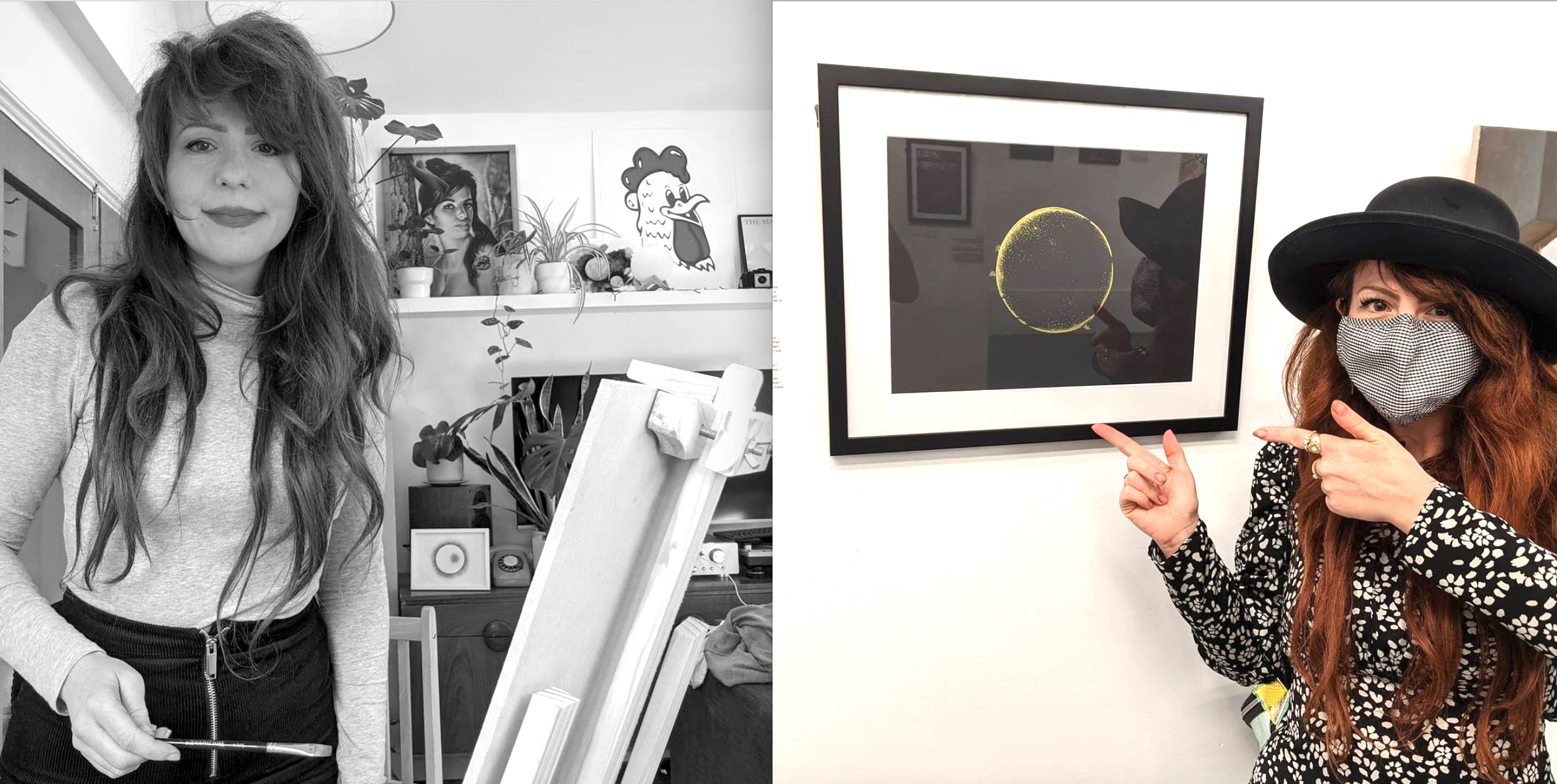 Emma Lilly Thomas at TAOI's Art Of Isolation exhibition standing next to her work Warming (Gold ink on black card)
Emma Lilly Thomas: My art practice  involves  the technique of pointillism using inks on card and acrylic on canvas. My work at present has a theme of spherical shapes, with a slight celestial element. I have recently been experimenting with watercolour, which has added a freshness to my work. I see the sphere as a universal sign of life, there is no edge, there is no end. It is all a continuation. We cannot control life, for it is a moving ball of energy and no one truly knows what it is.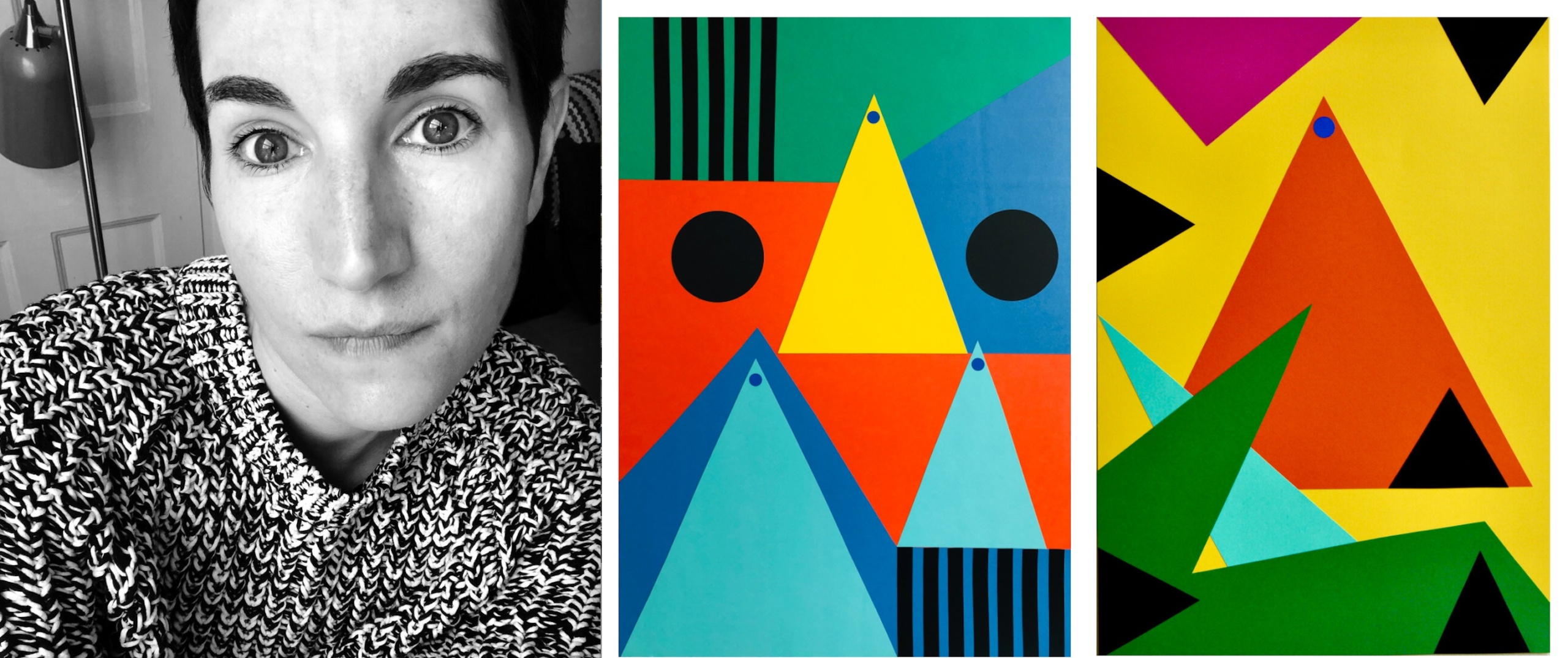 left: work on paper, 70 x 50 cm & right: work on paper, 42 x 29.5 cm
Laura Obon: I am a Spanish painter from Tenerife now living in London and I make abstract collages out of paper. I am driven by the feeling colour creates in me, and by the act of creating a composition by cutting, sticking and overlapping shapes. Collages allow me to change direction quickly, or to add a new element to the composition, while the forms come to life in the making of it. I work intuitively, arranging all the cut out shapes in search of a particular kind of harmony, creating warm spaces with an element of tension. I am interested in the concept of seeing art as a tool, as described in a book by Alain de Botton and John Armstrong Art as Therapy:
"Art is a therapeutic medium that can help guide, exhort and console its viewers, enabling them to become better versions of themselves".
I like to think that my collages can be part of such a fascinating process in which they become a useful tool.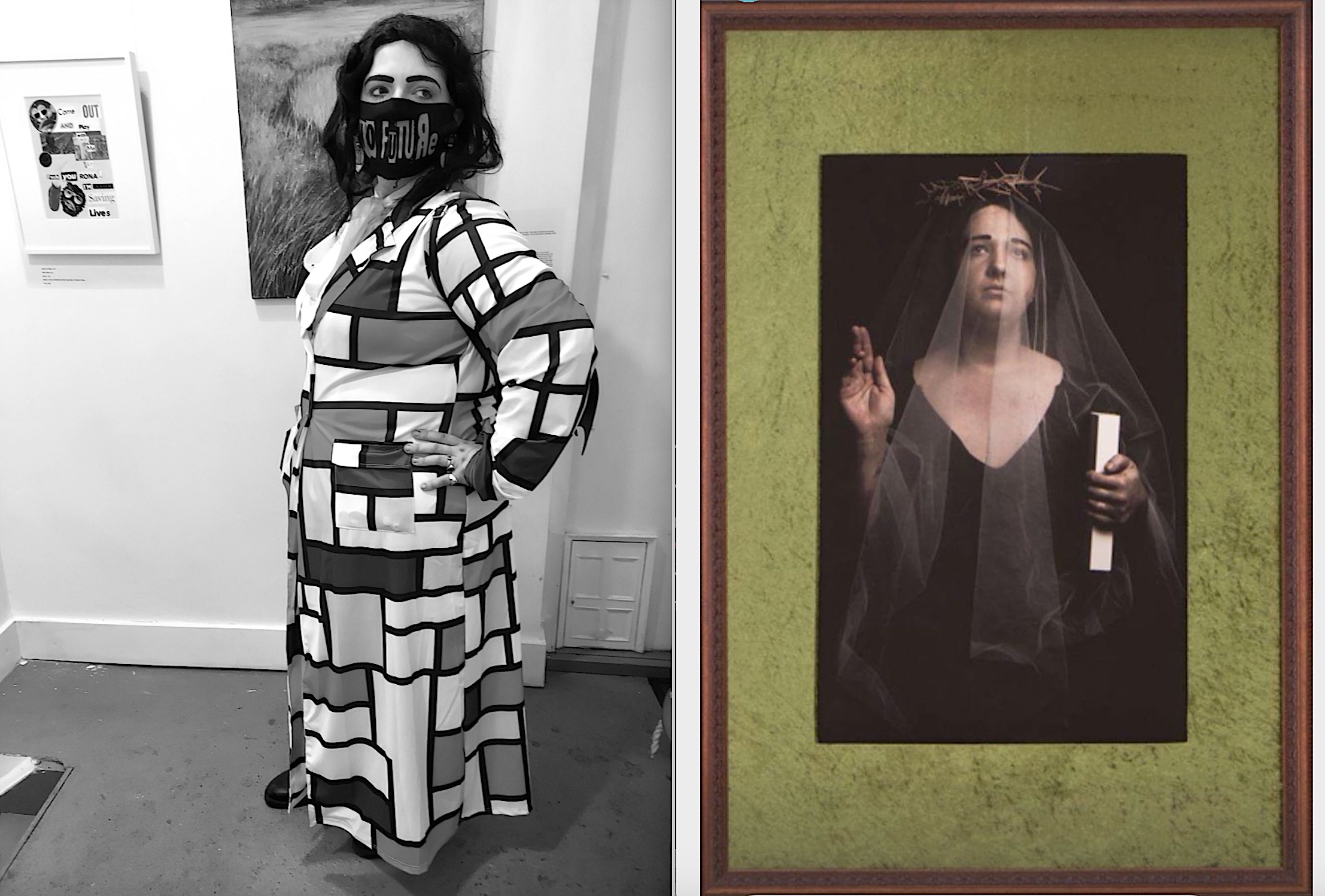 Jenny Nash – ironic and iconic imagery from her triptych My Mentor's Mirror: The Martyr
Jenny Nash uses the experiential nature of her photographic practice as an important component in her work. Nash documents spaces of memory, appropriating PTSD treatments, returning to sites of past trauma with her camera.
This enables her to converse with elements of her history abandoned to the unconscious. This methodology is derived from the work of Rosy Martin and Jo Spence who developed phototherapy in the 80's and practiced within the perimeters of her own methodology of Auto-Pathography which she developed from the work of photographic artist Dr. Spencer Rowell.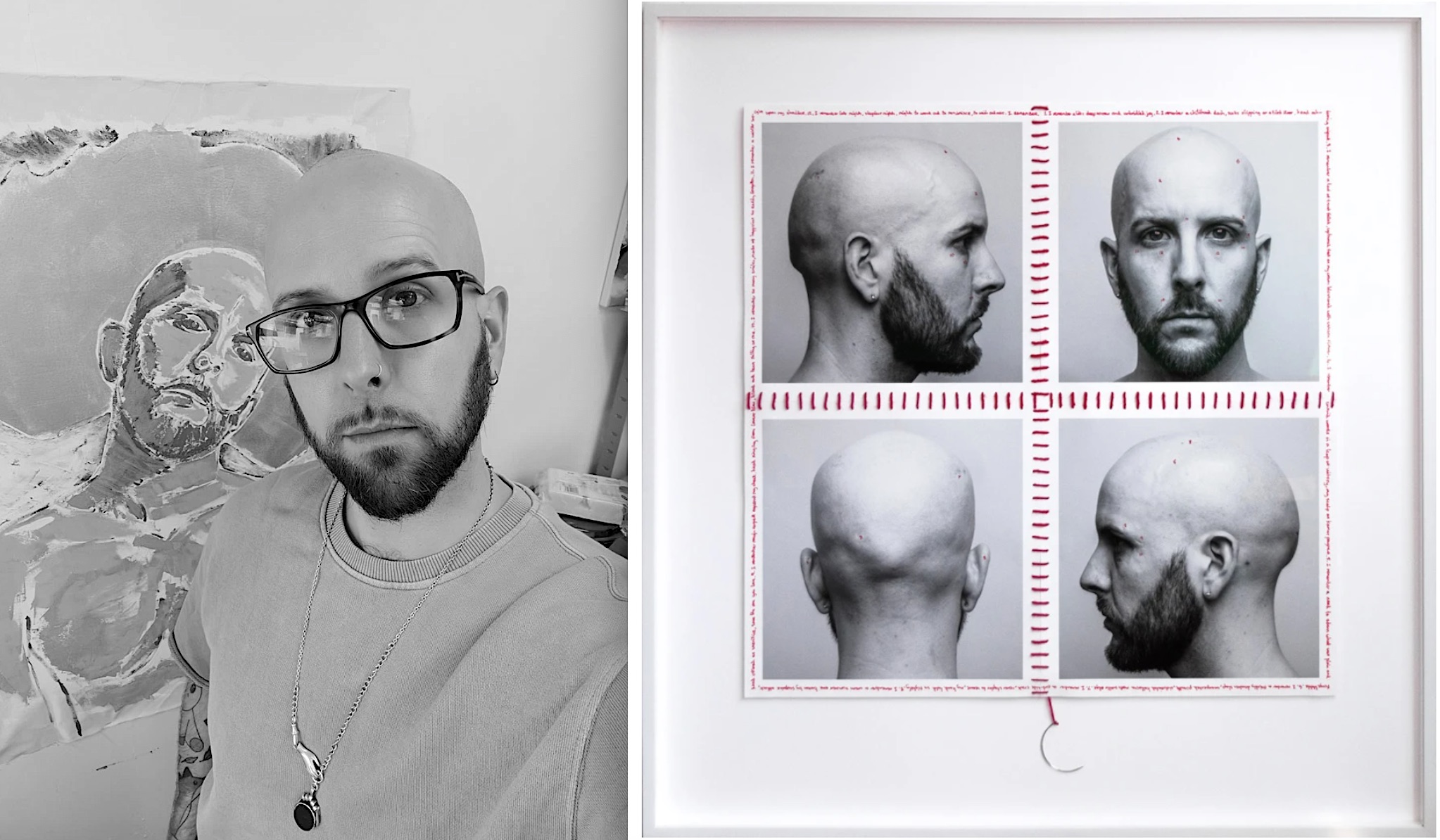 Adam Lucy – creator, curator and organiser for the TAOI collective.
Adam Lucy: My work occupies a space of revelation. Whether that is the removal of or exploration of a physical barrier, or the peeling back of layers of memory and time. My artistic and poetic work showcases a need to expose the past to gain a new and deeper understanding of the present. My continual exploration of the hidden or forgotten is a reclamation of my history. This genuine need to understand myself and the world around me translates into a substantial body of work around deep human emotion and experience.
The Space In Between Gallery 54, Mayfair, London April 12 -18