The warmer spring weather will, no doubt, embolden British diners to chance outdoor dining. It's been a little up and down recently but, thankfully, no repeat of the Russian winter weather reports in late March so the heated rooftop terraces of the likes of Coq d' Argent beckon for classy diners. This elegant French restaurant close to Bank station is on every meaningful list of London's best rooftop restaurants and after one visit you'll see why.
One mention of French restaurants and you'll imagine the highest culinary standards and subtle gourmet touches – the sophisticated décor and atmosphere always a Gallic standard translates into an international brand proudly displayed by eateries both upmarket and budget. Coq d'Argent gives you all this and more but with the added perk of being several floors up and with amazing rooftop views of the capital.
The elevator at 1 Poultry, EC2R 8EJ is so nondescript that you could almost walk past it but the fanfare is saved for the rooftop itself. And while this plainness may be the case for the elevator, not so for the playfully postmodern architecture of the entire office building itself. It was designed by James Stirling, one of Britain's greatest architects and its distinctive stripes of pink and yellow limestone have become a Bank and Mansion House landmark.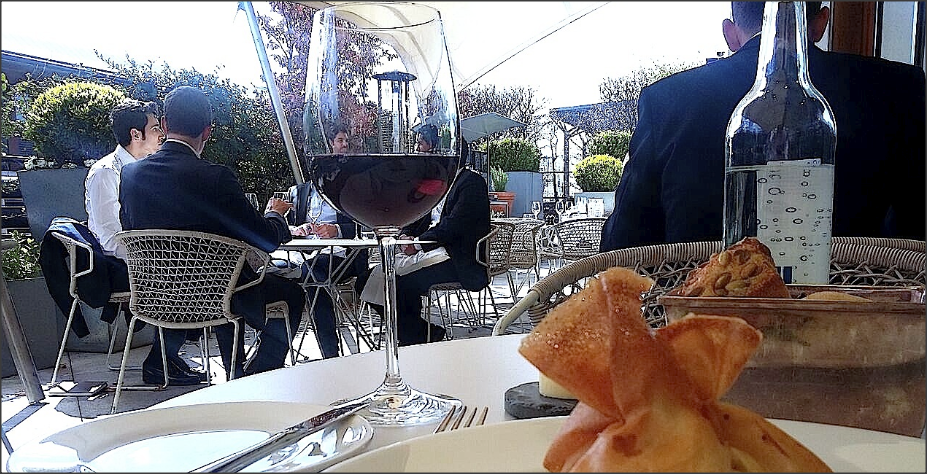 Cuisine. Culture. History. Architecture. With expectations now reaching critical mass, Coq d'Argent still rises to the occasion delivering first class service and courtesy from reception to table. Attentiveness without lingering over your every nibble: and these are nibbles of the highest order. A recommended starter of Fromage de Chevre may have the fretful diner scrutinising every element of the ingredients for something familiar. The Poitou goats cheese pastry, pepper piperade, basil & honey dressing parcel wrap will appeal to the fine food connoisseur and even fussy Philistine. You'll find that this appreciation extends way beyond the undoubted aesthetics.
Between bites take in the landscape gardening, the immaculate lawns and trimmed hedges of a verdant environment as stimulating to the pleasure centre as the meal itself. Beyond, views of The Gherkin and St Paul's. Take in the City skylines and sounds while enveloped in the warmth of the heated terrace and distanced from the hustle and bustle of the surrounding office life. Having said that, the majority of diners were exactly that; city types on lunch and in some cases very long lunches. Officey suits but shirts without ties dominated. And in most cases, the groups of expensively suited males around tables suggested this wasn't their attire of leisure but a break from work hours but not from business talk.
Is it pricey? It's a French restaurant and it's in the City. But there's probably a McDonalds just a few minutes off the junction of Bank Station. Failing that, wallow in the Gallic delights of a main course of Poulet de Supreme. Succulent chicken prepared for the tenderest palette in gourmet style portions. For those curious about the ingredients that's corn-fed chicken supreme wrapped in Bayonne ham, Raclette Cheese and Belle de Fontaway Potatoes. Coq d'Argent will make you an alfresco convert whatever the financial layout because the waiters, sommeliers and reception staff are never too far away or too busy to let you know you are worth the treat and the luxury.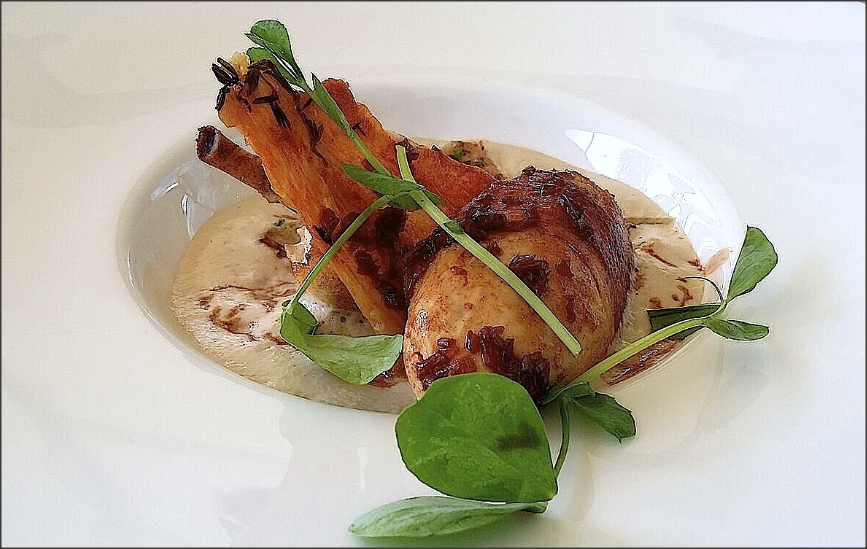 Poulet de Supreme
Talking of luxury, a dessert of Fondant au Chocolate Noir is a doable indulgence even for the three-course appetite. Diners who usually turn their noses up at desserts will find these smaller, richer treats a delightful exception. Forget the pocket and purse string woes and do the maths yourself: French + restaurant + rooftop garden = five-star dining.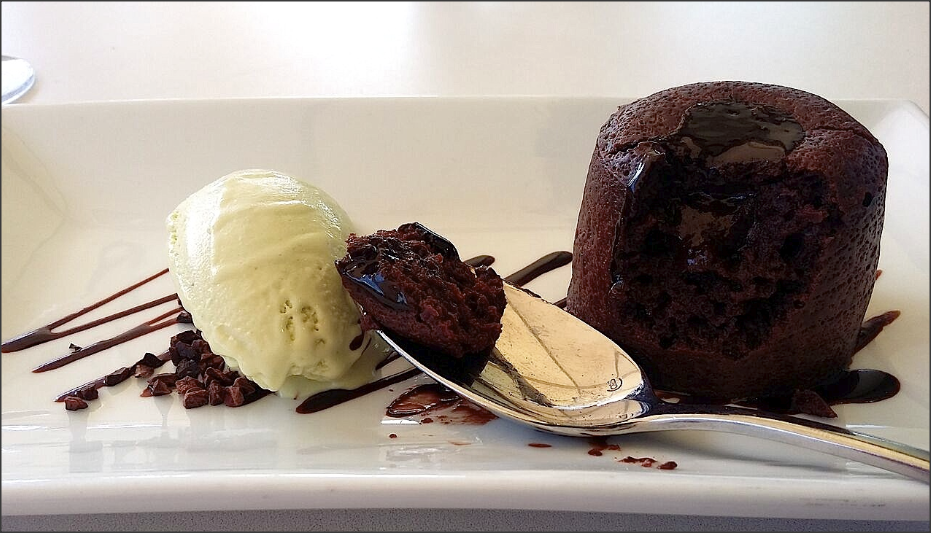 Fondant au Chocolate Noir