With an 80-year-old woman, Glenda Jackson, in the title role of King Lear it has come a long way since Shakespeare first loosely adapted it from Leir of Britain, a mythical tale about an 8th Century BC Celtic king. This pseudo-historical figure was accounted for in Geoffrey of Monmouth's History of the Kings of Britain. So did he really exist? Some say yes and point to such existing historical text. It's centuries past since Leir gave his name to the city of Leicester but Jackson's mere appearance on stage made all such arguments on this matter totally irrelevant. His second coming right there in the Old Vic would have probably paled in significance.
Consistent in her red stage garments that are synonymous with authority and which are also Labour Party colours (is that a nod to her former life as an MP?) Jackson, in any event, needed no such devices to hold centre stage. Regardless of the committed Shakespeare lovers in the audience, there is no doubt that the majority had come to see how the actress-MP-actress handled this challenging role after a 25 year stage absence. Gone then, is the bearded Lear we've come to expect but in its place a magnificent, charismatic actress who has real experience in the corridors of power as well as an indisputable acting CV which includes two Academy Awards.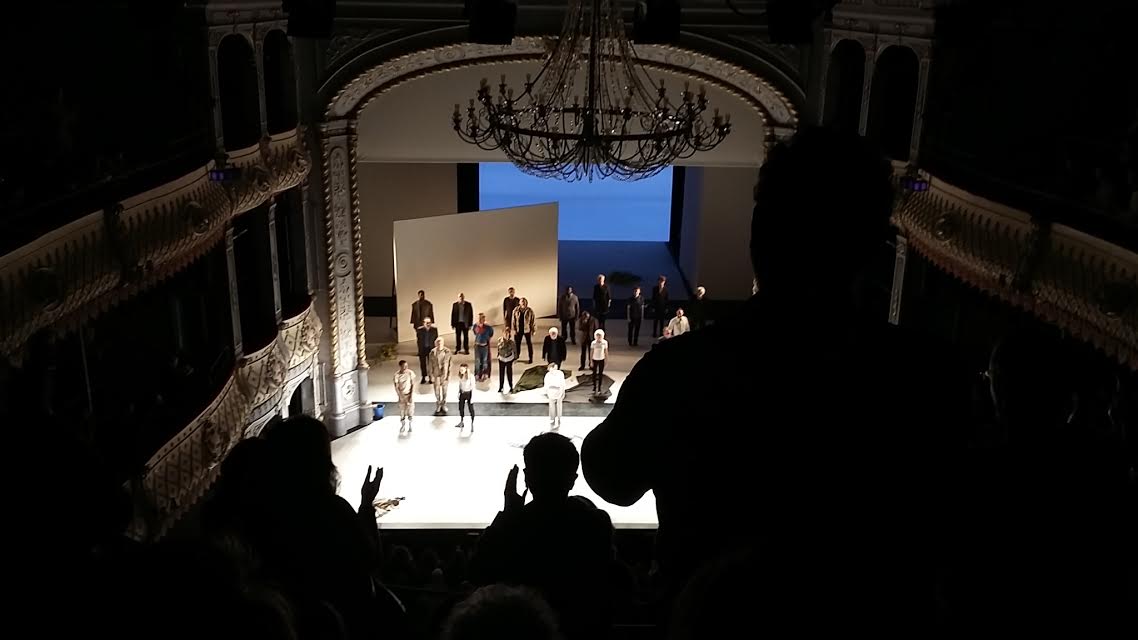 And..er..those eight blue plastic chairs on the stage in the opening scene. Nothing else. Never has a stage area so spacious and grand depicted a royal court so sparse. But that's all that was needed in this minimalist setting as you were introduced to King Lear and drawn into the tragic soap of the power relationships between her three daughters Regan (Jane Horrocks), Goneril (Celia Imrie) and Cordelia (Morfydd Clark). The power of the bard's tale along with the mesmerising talents of the cast made all unnecessary dressing fall away.
You'll also notice Lear's protagonists and antagonists bare their buttocks (literally) at the Old Vic's audience with little reason and even less restraint in an interpretation of the work that has seemingly retained the bawdy, crowd-baiting manner that existed when the original play did the rounds at rough inn-houses back in the 1600s. Namely, Gloucester's two sons the legitimate Egdar and illegitimate Edmund. Harry Melling (Edgar) is a wonderful actor and you'll pick that up from his first few lines even before you've worked out he's Edgar! You see, he plays a heavily disguised character who shifts just as much in costume as manner with Melling underscoring each transition with schizophrenic fervour.
Here again, Rhys Ifans is similarly empowered as Lear's personal jester – and you'll easily pick out a Fool dressed in a Superman costume and wearing Converse trainers. It's wonderful to watch an unperturbed Glenda Jackson characterisation of Lear let him grab centre stage. The Fool has little respect for her royal bearing when his ramblings are in full flow and laced with counsel, as they are. She somehow regards him as a harmless, curious little pet who she enjoys seeing misbehave. His sly digs at her drew gasps from her courtiers ( and even the audience) but you're not surprised when she waves him away with the contempt he deserves:
FOOL (To King Lear): You're not supposed to get old until you're wise.
LEAR: O, let me not be mad, not mad, sweet heaven! I would not be mad. Keep me in temper.
A moment worth waiting for to see Glenda Jackson in the title role of Shakespeare's greatest tragedy and it would also be a tragedy for you to miss this amazing production. Running at The Old Vic until 3 Dec 2016.