English romantic poet John Keats lived a short life that was in so many ways the archetypal tragic, brief and poverty-stricken existence expected of such literary figures. What still exists is his inspirational body of work and of course his home in Hampstead, Keats House (formerly Wentworth Place). Now a heritage site operating as a museum since 1925, it is the closest you will get to the great man and the working environment that existed in 1819 when he produced his best work.
It's a proud monument in British literary history but anyone from a creative background, whatever discipline will find the visit a particularly moving experience mainly because it will inevitably make them re-examine their own artistic journeys for better or worse. And here's why. Keats was the son of a stable manager and innkeeper's daughter but both his parents died young, his father from a riding accident when he was four and his mother from tuberculosis when he was 10. His guardian and executor of the will Richard Abbey wanted Keats to pursue a respectable, steady vocation and set him up on an apprenticeship as an apothecary surgeon studying at Guys Hospital.
However, Keats had already started writing poetry and had befriended radical publisher Leigh Hunt who encouraged his emerging talent. The crux point came when Keats passed his apothecary apprenticeship with flying colours and told his guardians he would not be pursuing medicine because he wanted to be a poet. "You must be mad!" Richard Abbey barked at him. One might wonder how many times artists have heard similar words from concerned parents who see their creative pursuits as indulgences they'll grow out of. But he never did.
Standing in the home of an undoubtedly talented man who only achieved recognition after his death, had his work mercilessly attacked by critics when he was alive, making little money and dying young having written only three books will give you that Road To Damascus moment. It will either reaffirm both your sense of mortality and quest for some sort of legacy, making you pursue whatever it is you're seeking with the blinkers off or it will make you question whether it is worth it. For Keats it was worth it. His Ode to a Nightingale is now a recognised standard of excellence in English verse so I guess legacy trumps common-sense every time.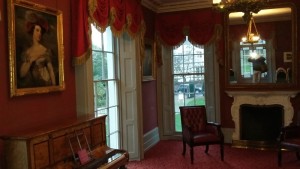 If this household's splendid upholstery is indeed his muse, you can examine every detail of it – the sofa facing the bay windows where he sat when he was housebound ailing from tuberculosis and the four poster bed where he lay stricken and bleeding from the mouth because of the same disease in his final years. Keats only lived in the house for two years but this was the period when he produced his best work. Also bear in mind he only wrote seriously for four years.
The friendly museum staff are also at hand to fill in any gaps in your knowledge, they point out The Film Room in the basement is quite handy because it provides a detailed account of his life. Key points are when the love of his life Fanny Browne moved into the other half of the house.
Keats House looks like one building from outside but it had actually been divided into two apartments by the owner Charles Brown, a close friend of Keats, Brown, himself, beginning a scandalous affair with the Irish house servant Abigail O'Donoghue. Her kitchen has been preserved as authentically as possible with pheasant and hare still hanging on hooks from the ceiling. It's certainly a grand, inspiring piece of architecture set in leafy gardens in, yes, leafy Hampstead. It's also the venue for a programme of poetry based events throughout the year including a Poetry Appreciation Society that meets every three weeks to discuss verse and not just his.